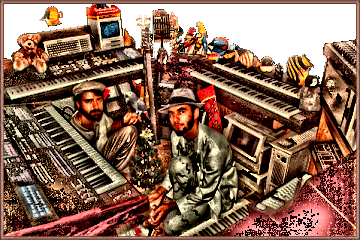 Crimson Twins - The CTmp3 Files
With instruments ranging from Buchla & Kyma synthesizers to scissors & glue, CT have been exploring curious aural amusements since the early 1980s. Over three hours of peculiar yet endearing MP3 files plus MIDI & links to many of the vintage synths heard on the tracks.
CT are... Peter Kreutlein & Randy Stack aka Reese Revoe ...and anyone else who might happen by or phone up during a session, including esteemed members of the Toasty-Fried Co-op and The Banana Trading Company. Downward Flight of Birds features Jeff Stachowski as frontman (oh, and Jeff also phoned in the impromptu equine anecdote featured in Beyond the Firewall. And, for that matter, who could forget Dan Kraus, whose almost legendary temporal acuity over the English language left us the message which would become Where You Is (Where You Are)? And, finally, our dearly beloved and much-missed patron saint Michael Alton Griffin (rest his most beautiful and gentle spirit) served as our sinister Yultide storyteller in Christmas Rake.).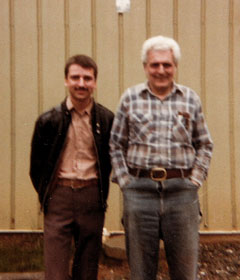 Randy Stack & Bob Moog, circa 1982
In remembrance of Dr. Robert Moog...
my professor, my inspiration & my friend.
CT Vids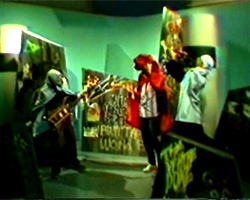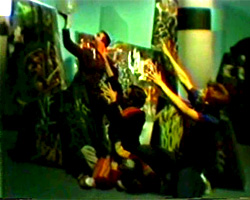 CT Tales
Aunt Helen's Bath
Written for an interpretive dance presentation at Espace Tangente in Montreal, "Aunt Helen's Bath" provides the aural accompaniment to the story of an elderly woman (that'd be Aunt Helen) who'd consumed too many bananas prior to retiring to her evening bath. Settling down within the welcoming warmth of her sudsy tub, Aunt Helen rapidly fell sound asleep. When she awakened several hours later, she discovered to her horror that she was unable to move - the potassium overload from excessive pre-bath banana consumption had caused her joints to freeze! Stuck in the bath until the next morning when help finally arrived, this piece takes us through the terrifying and traumatic emotional journey Aunt Helen endured during her seemingly endless fruit-induced paralysis.
CT go West
"CT go West..." is a joyful tribute to the cultural diversity of our land. Those of you who knew us back in our "if God had played the trombone once, it would have sounded much like this" Blues Resolution days know that we used to include complimentary sticks of clove chewing gum to go with our music. This proved to be surprisingly unpopular. Gum is a good thing...as is floss. Scissors and glue are not as good yet equally useful. Warm but fluffy ice cream is not bad. Too much aspirin (an analog sound) can make you sick. These are the sorts of wondrous things we encounter in our many travels. We tried to provide a glimpse of our culture beyond the music, but alas, it went unappreciated. We received scathing reviews, such as: "By the way - thanks, but no thanks for the clove chewing gum." [Music Technology, January 1990, p49] Nobody wrote and said, "Hey...gum! Thanks!" Well, that's it. No more gum from us. From now on, you just get the music.
CT Scenes
"CT Scenes" offers a look at the mildly chaotic existence we enjoy from day to day. I was walking through Palm Court amidst the perpetual festivities. I had just recently left The Room Where The Conversation Was on a quest to refill my gravy boat with java. I knocked on a door. Two older gentlemen answered, adorned in large blue foam-rubber cockroach costumes. One was holding a full carafe of freshly-brewed coffee, and the other a recently filled styrofoam cup. "Hello, Bugmen," I queried, "Do you have any coffee in there?" They looked at each other, and then at me, and replied, "Nope, sorry, you'll have to go next door." I left. My life was forever changed.
CT Shanty
"CT Shanty" is a typical scene from our country. Complete this sentence: "Whilst driving through the wilds of the Antare mountains, Groggy Roger suddenly fell into a deep..." - no - on second thought, imagine yourself arriving in our land by ship. After a long and arduous journey through stormy seas, you reach port with the sun shining and birds chirping. As you make your way onto land, you are suddenly accosted by Peter and myself wildly playing M'bira and Concertina (respectively...although we have no earthly idea where the conga player came from). You try to run away, but we are just too darn agile, catching up with you at every turn. Finally, as if struck by a sudden burst of combined frustration and inspiration, you offer us money. We thank you heartily and go off to buy doughnuts.
CT at Rest
"...CT at Rest" provides the backdrop for the latest CT dance craze! It's easy and fun, and doesn't require a great deal of effort. All you have to do is stand there and wait for the 13/4 measure to come around. Then, when you hear the high resonant feedback sound come in, grit your teeth and tilt your head back as faaaar as it will go. That's it! You're dancing! Simple, huh? I tried this once, but Peter, in a fit of crisis, took away my shoes. Before I could object, he handed them back to me...but they were somehow changed. "Damn you Peter Kreutlein," I exclaimed, "Damn you and all your crises. Damn you Peter Kreutlein, they'll never be the same. They were different, but now they'll never be the same." He wholly agreed, wrapped himself up in a blanket, and ignored me for the rest of the evening, leaving me to ponder this question: Can you disguise yourself so well that no one can tell it isn't you?
CT Trouble
"CT Trouble" represents yet another a significant breakthrough for CT Labs: a song that's fundamentally in 4/4 time! Granted, this won't win the Kreutlein Research Award for Extreme Cleverness, but it does serve to bring to light some of our misplaced prejudices with regard to CT's music. Misplaced prejudices, however, are but the least of our concerns stemming from this composition. To quote Peter: "As near as I can figure, we've managed to misplace several tables, two coffee machines - which I really got upset about - and, just last week, I had the greatest difficulty finding my car." The car was, in fact, eventually found serving as a support for the left side of a table at CT Labs. Apparently, the table legs were misplaced several weeks earlier when they were removed in order to illustrate a point in a discussion on the indeterminacy of miraculous intervention. The subsequent successful resolution of this discussion cost the life of a perfectly serviceable Fairlight CMI Series IIx.
CT Reprise
Finally, "CT Reprise" is a simple but happy tune to bring things to a close.
CT Quila
Desperate to at long last do a cover tune and having consumed too many ravenous flisks of McWhiskey, we opted to add the ever-popular perennial favourite "Tequila" to our repertoire but, try as we might, neither Peter nor I could for the life of us remember the melody (except that it had a saxophone, an instrument of which we are terribly un-fond do to its overt aural unfriendliness (apart from perhaps the soprano variety)). We did know, however, that you were supposed to shout "Tequila" every once in a while...so at least we got that right (and, for the rest, we can but apologise).
The Lord's Impromptu Visit
This song was inspired by a most enduring legend in our land: According to our hallowed oral tradition, farmer Angus MacChooley had been out in his fields harvesting raw scullinunt shoots to be ground within his windmill as the secret ingredient for his two most sought-after snack-food items - mint sniggets & minced niggets. Approaching his humble farmhouse and mill, he was overcome with a combination of fright, awe and divine majesty as the risen Jesus suddenly jumped out from behind a rock and then hid behind the windmill! That evening, farmer MacChooley set an extra place at his table, just in case Christ might fancy popping in for a bite to eat, thus commencing our time-honour tradition of keeping an extra place setting at our tables should the Lord come to visit. He never does, though, instead just ringing our doorbell then hiding around the corner.
CT Quotes
"If God had played the trombone once, it would've sounded much like this."
- Peter Kreutlein
"Hello, Bugmen, do you have any coffee in there?"
- Randy Stack
"Nope, sorry, you'll have to go next door."
- The Bugmen
"So much larger than life."
- Peter Gabriel
"Never seen anything like that before - Thank you! Thank you!"
- David Byrne
"I know they're trying to tell me something - If I could just figure out what it was..."
- Laurie Anderson
"No one knows what they mean. Everyone just ignores them."
- Brian Eno
"Would I give a shit about these people?"
- William S. Burroughs
"What more can be said?"
- Adrian Belew
CT Reviews
Following are some of the reviews we received regarding our first 'commercial' release - "Blues Resolution" - wa-a-ay back in 1989...
"This has nothing to do with the blues. It has a lot to do with exotic equipment (Fairlight IIx, Kurzweil 250, Breakaway Vocaliser 1000, Echo Speech Synthesizer, EVI, etc.) in a bedroom in Florida under the control of two half-crazed / half-brilliant friends. Academic music with the attitude replaced with a benevolent interest in exploring mysterious melodies, rhythms, frequency, spectra and harmonic relationships. By the way - thanks, but no thanks for the clove chewing gum."
- Music Technology, Jan '90
"I promise to always be sad and play guitar . . . Unlike anything else on the 50,000,000,000,000,000,000,000 Watts label, the Crimson Twins are a heavily atmospheric, airy ensemble, covering all kinds of synth-turf from new age feathers and fluff to the Risky Business-soundtrack hippie-synth-boogie grooves of Tangerine Dream, and more. Listening beyond the po-mo quotes and arcane incantations on the cassette's J-card, one finds an adventurous exploration of sonic landscapes, from the rarefied air of the Tubular Bells-like intro to 'Dancing Portacles' through T-Dream landscapes to Thelonious Monk interpretations to the slightly strange 'Shirt Wave Radio', which features the added excitement of a rare cameo appearance on scat vocals by a guy named Java-Bot Beatnik Poet, among other treats. Technically, this tape is passable - they've even MIDI-ed their Polyphonic Wazoo - but while much of Blues Resolution is interesting ambience and intriguing trickery, there still is a lot of room for this band to grow before they can completely fill a studio and command attention."
- CMJ New Music Report, Aug '89
"These six songs, curious sonic collages and musical explorations, give you a glimpse of their creators: Randy Stack and Peter Kreutlein Collectively known as the Crimson Twins, Randy and Peter blend traditional jazz with a modern synthetic style. They're also successful at fusing non-standard electric instruments (e.g. fretless bass, Chapman Stick, catfish guitar(!?)) with the high-tech electronic toys of the past few years, not to mention the 'Polyphonic Wazoo MIDI controller'."
- Independent Music Network, Fall '89
"Peter Kreutlein and Randy Stack deploy an impressive army of synthesizers and processing equipment on this release, producing half-a-dozen instrumentals as a result. Unfortunately, many of them seem to drag as they beat a simple musical phrase into the ground. Too slow-moving and monotonous for my tastes."
- Factsheet Five, Oct '89
"Not much to do with blues, but rather six tracks of interesting compositions by Peter Kreutlein and Randy Stack on a battery of high-tech synths and peripherals. The general tone is easygoing and flowing with exotic overtones suggestive, occasionally, of mysterious jungle locales. 'Shirt Wave Radio' is a humorous opus of rhythmic clicks and bangs with altered voices. The feature track, a 12-minute 'Bolivious Monk', is a skilled yet laid back jazzy number in a cool groove. An enjoyable tape."
- OPTION Music Alternatives, Nov/Dec '89
...but, curiously, our reviews seem to be improving a bit as we age...
To wit (regarding 'Uriera Noseland'): "...once in a while you come across some really cool stuff like this. Not the pre-sweetened tripe that usually passes for electronic music, this is the real stuff. They have a great spirit of adventure about their music that keeps me coming back. Hopefully everyone will catch up with this group some day."
- Greer Island Electronic Musicians Guild, June 2000
"Randy Stack and Peter Kreutlein employ a prodigious array of noisemakers -- ranging from Buchlas and Fairlights to their car keys and an African Gray parrot -- in a dedicated search for the aural Rosetta Stone. Balancing jazzily uncompromising and unpredictable experimentation with an uncanny knack for skirting academic unlistenability, these engaging and distinctive pieces investigate improbable rhythms, the gestation of genre and the kind fortunes of chance. No mere sonic spew, this is everything that Experimental music can and should be."
- Jeff Kihn, listen.com, Fall 2000
And, regarding '100 Bottles o' Beer', "You don't have to be drunk to appreciate this. To find out if being drunk helps, listen to this while drinking a glass of water, and while holding a stethoscope to your abdomen, ask aloud, 'Does being drunk help one appreciate this music?' Listen closely, perhaps the water will answer."
- Rain God's Picks, October 2000
But, by far, our most glowing review came from Christopher Yavelow - electronic music composer extraordinaire, author of The Macworld Music and Sound Bible (IDG, 1993), Making Music With Your Computer (Mix, 1993), The Music Machine (MIT, 1988), The Player's Reference Guide to the Kurzweil K250 and creator of the 'YAV Music Engine' - who said: "Cool! (you can quote me)"
...thanks, Chris - we will. ;~)
CT-mail
...should you feel any compulsion to write us, click on the "CT-mail" link below and write away. In return, you'll have the satisfaction of knowing you've brought a glimmer of joy into our somewhat peculiar lives. And remember...in these days of ever-increasing complexity, isn't it nice to find two musicians who look so much alike?